Events:
The Series of the International Conferences on Intelligent Autonomous Systems started in 1986 in Amsterdam, organized by prof. L.O. Hertzberger of the University of Amsterdam, and prof. T. Kanade of Carnegie Mellon University. The full list of date, location and Organizational Structure of all the 12 past IAS Conferences can be downloaded here.
IAS-13
July 15 - 19, 2014
Padova and Venice, Italy
http://www.ias-13.org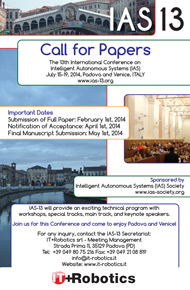 General Chair:
Emanuele Menegatti, University of Padua, Italy
Program Co-Chairs:
Asia/Oceania Regional PC Chair:
Hiroaki Yamaguchi, Aiyama Gakuin University, Japan
Americas Regional PC Chair:
Nathan Michael, Carnegie Mellon University, United States
Europe/Africa Regional PC Chair:
Karsten Berns, Kaiserslautern University of Technology, Germany

IAS-12
June 26 - 29, 2012
Jeju Island, Korea
http://www.ias-12.org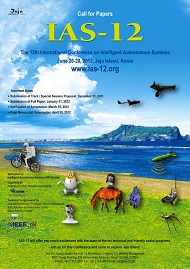 General Chair: Sukhan Lee, Sungkyunkwan Univ., Korea
Organizing Chair: Kwang-Joon Yoon, Konkuk Univ., Korea
Program Chair: Jangmyung Lee, Pusan Nat'l Univ., Korea

Join us for this Conference and come to explore Jeju Island, one of the new 7 wonders of nature!

IAS-11
30 August - 1 September 2010
Ottawa - Canada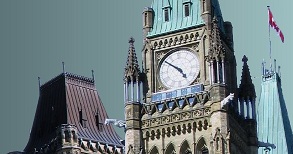 General Chairs
Frans Groen, University of Amsterdam, The Netherlands
Emil Petriu, University of Ottawa, Canada

Program Chair
Henrik I Christensen, Georgia Institute of Technology, USA

http://www.yvesnix.nl/ias-11/
IAS-10
23-25 July 2008
Baden-Baden Germany

General Chair
Prof. Rüdiger Dillmann
Univ. Karlsruhe (TH), Germany

Program Chair
Prof. Wolfram Burgard
Albert-Ludwigs-Univ. Freiburg, Germany

http://www.ias-10.org/
IAS-9
The 9th International Conference on
Intelligent Autonomous Systems (IAS-9)
March 7 - 9, 2006
Kashiwa New Campus, The University of Tokyo, Tokyo, JAPAN
Sponsored by IAS, RSJ, RACE, and The University of Tokyo
http://www.arai.pe.u-tokyo.ac.jp/IAS-9/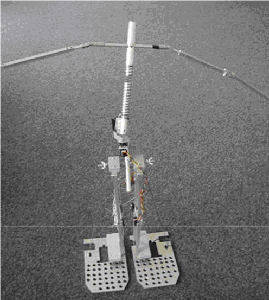 The conference run successfully.
Thank you very much for your attendance!
See you in 2008 at IAS-10